The Men's Golf Fellowship began in Raleigh in the summer of 2017. As is the tradition of MGF our speakers are men who are accomplished in their field of endeavor and men of faith. They are asked to speak to the group about their career, there life and their faith.
Our meetings are held at North Ridge Country Club and the attendees include many club members but also non-members, and guests are welcome.
The 2017 invitation to participate states: "The whole purpose of Men's Golf Fellowship is to gather together as men of like interests to hear these wonderful talks from Christian men who share with us the story of their career, their life and their Faith.
For more information about our Raleigh Chapter of Men's Golf Fellowship please contact:
Ron Hoskins
rhoskins@mindspring.com
(919) 673-4299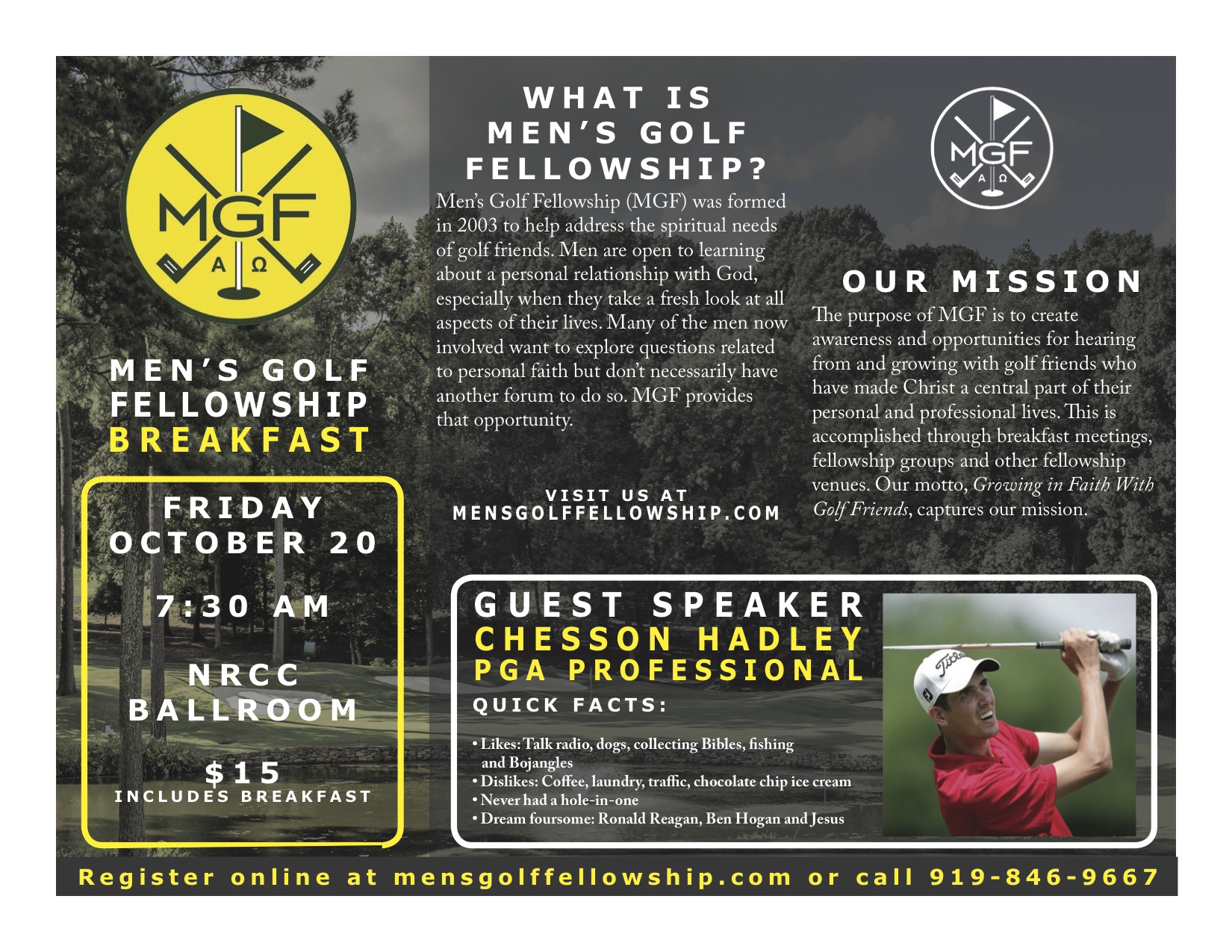 CHESSON HADLEY, PGA Professional
Born in Raleigh, North Carolina on July 5, 1987,  He took up golf at the age of 6.  He was a three-time North Carolina All-State.  He earned a scholarship to Georgia Tech where he was a three-time All-American, winning the Carpet Capital Collegiate as well as the ACC Championship his senior year. In 2008, he represented the United States on the Palmer Cup team. This great success paved the way for his professional golf career.
Hadley turned professional in 2010 after graduating with a degree in Business Management. He played on the eGolf Tour for 2 years before making it to the Web.com Tour during 2012 PGA Tour Qualifying School. He won twice on the Web.com Tour in 2013, winning his hometown event, the Rex Hospital Open, as well as the Tour Championship. He finished with the highest combined earnings during the regular season and the playoffs and was a rookie on the PGA Tour in 2013.
During his debut season on the PGA TOUR, Chesson came out strong, winning the Puerto Rico Open. He had 4 top-10 finishes during the season and went on to receive the honor of 2014 PGA TOUR Rookie of the year.
Chesson met his wife Amanda in elementary school. He cites her support as one of the most important things in both his personal and professional life. They reside with their son Hughes in Raleigh, North Carolina, where Chesson plays at North Ridge Country Club and Raleigh Country Club.